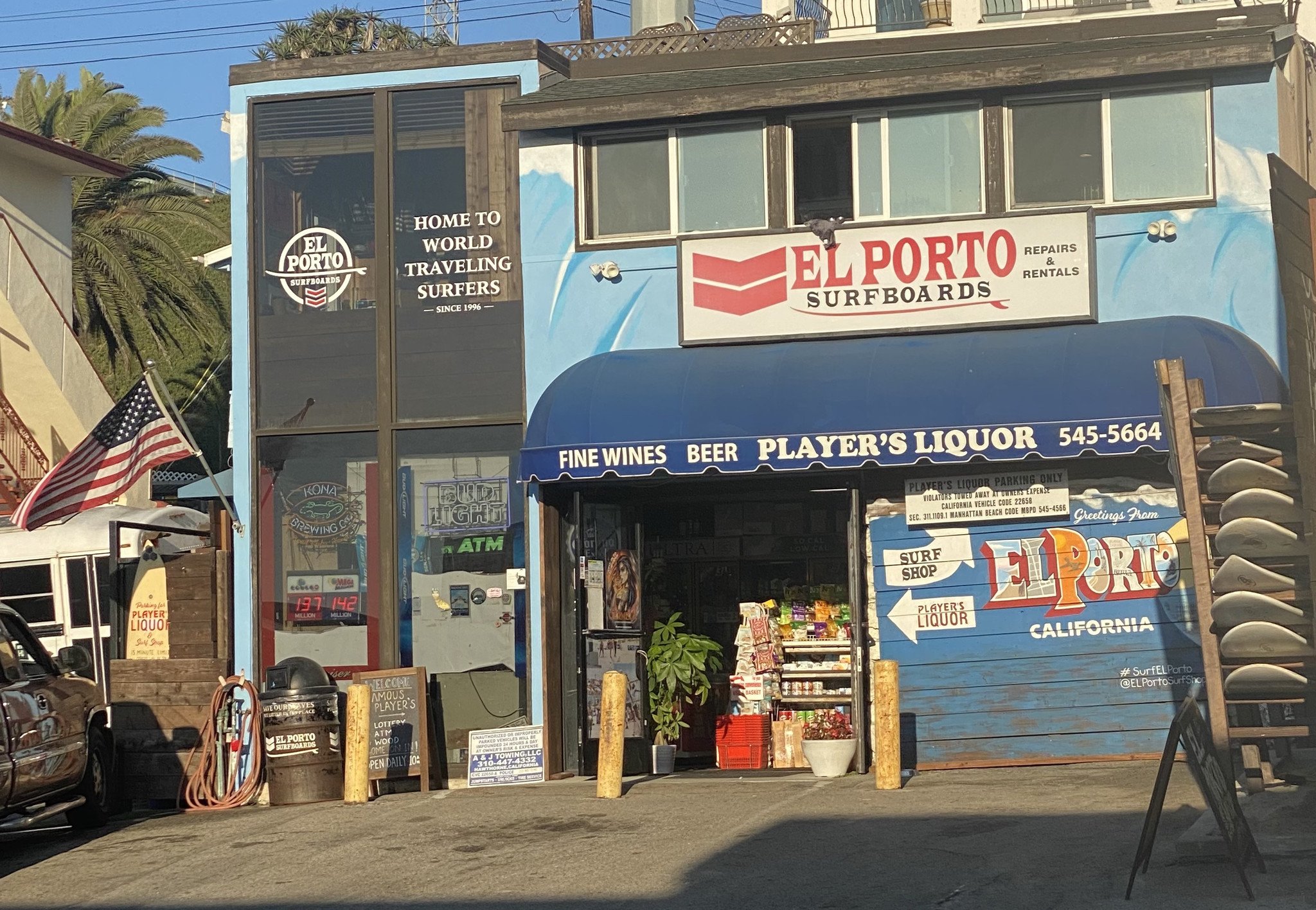 El Porto Surf Shop is the ONLY surf shop in the world open 6:30am - every day except Christmas - serving those who wish to surf right now... making us the number one surf rental destination in Los Angeles County and mainland USA.

Located just 771 feet from the most consistent surf break in California, El Porto is one of the only places on earth with surfable waves nearly all day - every day of the year!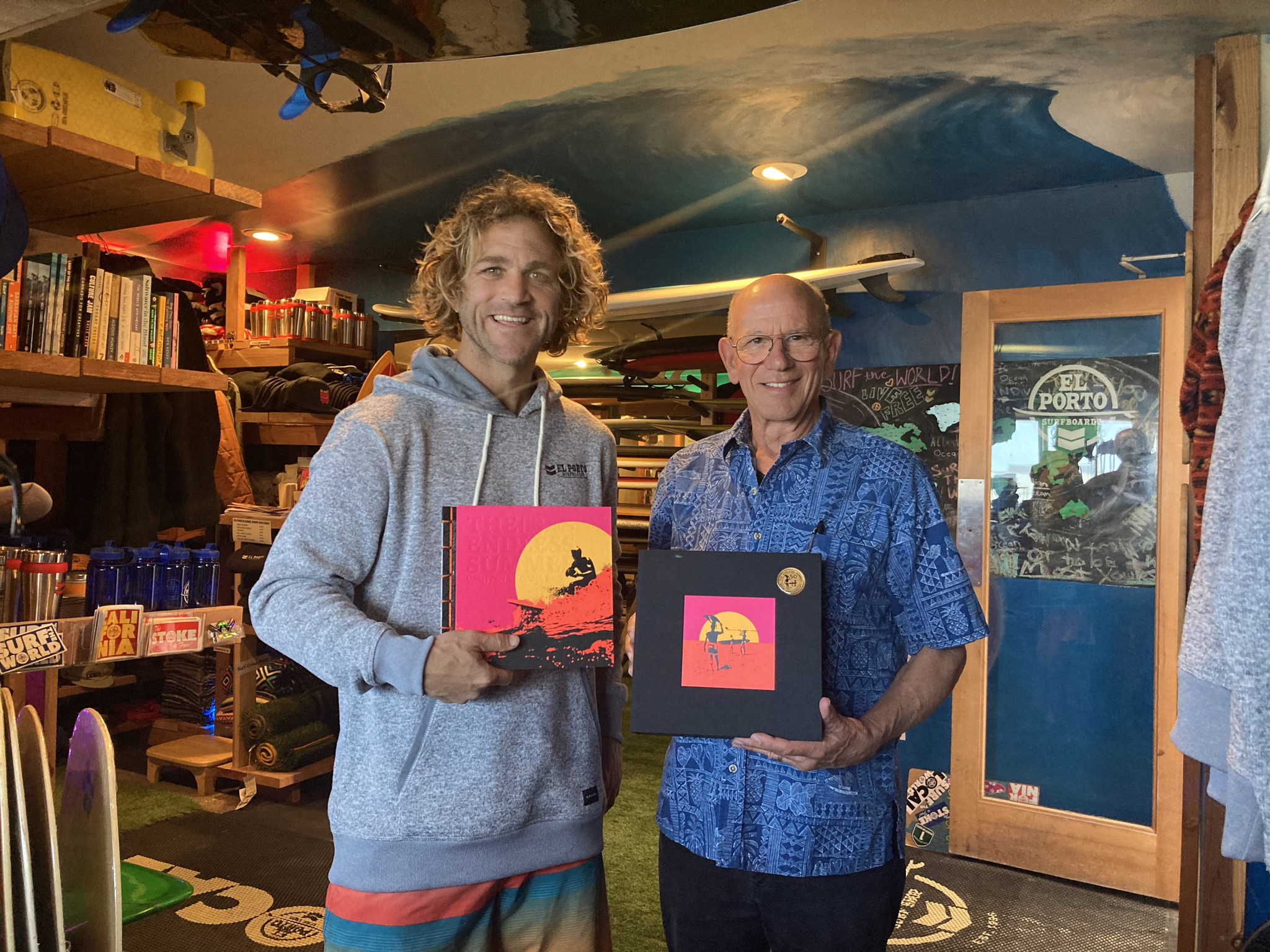 Independently owned, and founded by local surfers in 1996, we have rented boards and wetsuits to surfers from nearly every country on earth in our 26 years in business, while also providing locals with immediate surf essentials - wax, leashes, fins, wetsuits, boards and repair tools and services.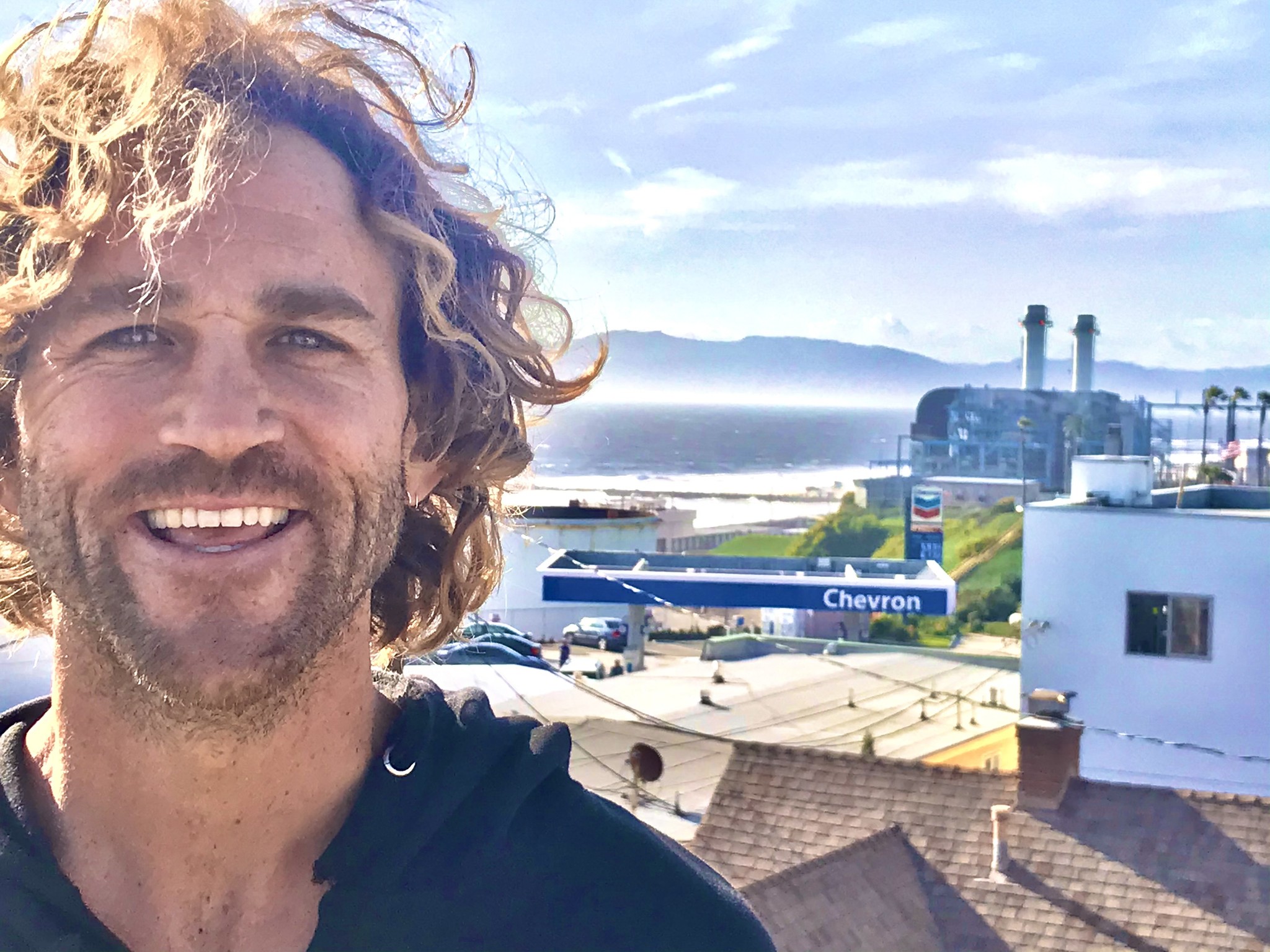 Owner's Statement
Welcome to El Porto Surf Shop! My name is Pack Landfair, also known by my pen name Woodrow. I see my long, strange trip to El Porto as having been an ideal apprenticeship, preparing me to serve you as the owner and leader of this neighborhood surf shop. 
I grew up in the Virginia suburbs of Washington DC - a five hour drive to the nearest beach, and nowhere near a surfable wave. Only because of my parents' divorce at age 4 - and my father's immediate move to California - did I visit Venice Beach for two weeks every summer during my school years, allowing me to start surfing at age 11, when my mother bought me a lesson. Never living near a beach and thus never owning a board of my own, I rented surfboards at nearly every shop in Los Angeles, and later in Maryland, Delaware, San Francisco, New York, Waikiki, Florida, the Carolinas, Costa Rica, Jamaica, the Netherlands… everywhere I traveled where I found a surfable wave and a rental shop. 
I earned a degree in English Literature from the University of Texas, where I was a member (and Teammate Of The Year) of the 2005 College World Series champion baseball team, before pawning my national championship ring to write a book about a nationwide motorcycle adventure. At first sleeping outside, I rode forty-eight states by motorcycle, working odd jobs town to town - leading to seven years secretly bringing to life Ronald McDonald for the McDonald's corporation. I am the author and performer of a one-man show about my motorcycle experience, 48 LIVE (2007), as well as the novel, LAND OF THE FREE (Harbinger, 2014). In 2015, while still secretly working for McDonald's and just coming off my first book tour, I founded what would become HighTides Book Club for Cannabis and Mushroom Enthusiasts - now HighTides Book and Surf Clubs. In 2017, on the proceeds of my book business, I purchased El Porto Surf Shop and moved to El Porto. I then redesigned the surf shop to cater to our core travel and local customers, adding a six person staff and opening everyday at 6:30am.
I am currently pursuing a lifelong goal to surf every coastline on earth - as an excuse to see the world and connect with good waves and free people - and as a way to tour with book and guitar while promoting El Porto Surf Shop and HighTides. As of 2022, I have surfed 17 states and 13 countries. When not traveling, I live here in El Porto, where I enjoy running this shop, renting surfboards to travelers, reading books, writing, practicing yoga, smoking blunts, hanging at the neighborhood bars, and surfing every sunrise and sunset. 
I am grateful for your business, and for my team here to serve you. Thank you for coming back! And thank you for telling your friends!

Shop Improvements
Now hand-painted inside and out with closeout waves falling from our ceilings, silhouettes of El Porto's infamous smokestacks on our walls, and lumber of California redwood sawed and drilled by the new owner himself to create our exterior board racks and interior merchandise displays - El Porto Surf Shop proudly offers our own unique brand of surfwear and surfboards, specifically made for local and traveling El Porto surfers. Additionally, we have replaced and refurbished our rental wetsuit and surfboard fleet with top of the line products.
We also sell books on the owner's favorite subjects - from surfing and travel, to inspiring novels, to books on cannabis, mushrooms, meditation, yoga and philosophy.
Since 2017, El Porto Surf Shop has increased our staff from 2 to 7 while increasing our overall sales by 400%.
We refuse to advertise, and we refrain from any social media as Pack believes social media poisons the mind and kills the soul.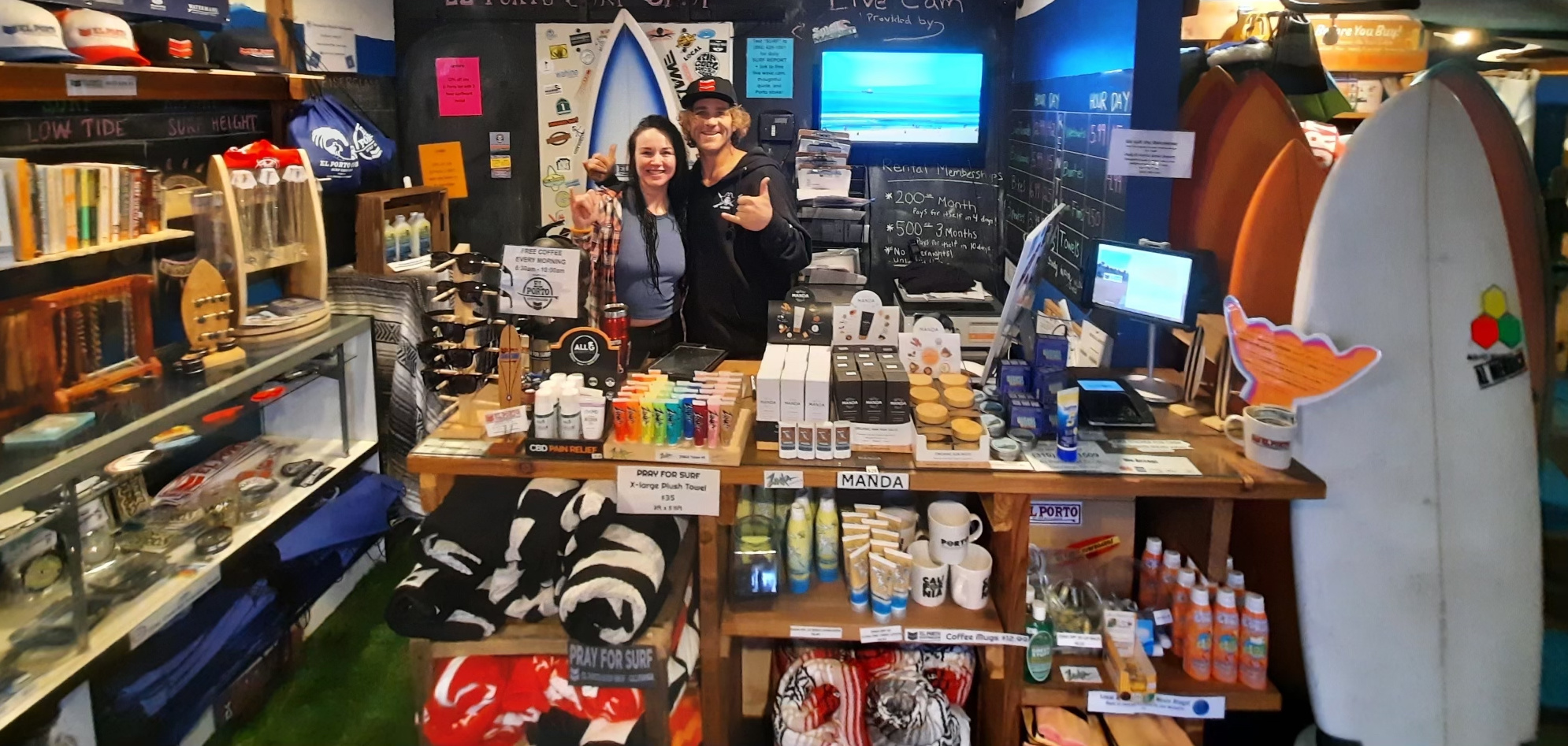 As the closest place to surf from LAX, serving thousands of traveling surfers annually, we are LA County's friendliest and most convenient surf destination! We are located directly above El Porto Beach, atop of Player's Liquor at 3408 Highland Avenue, Manhattan Beach, California.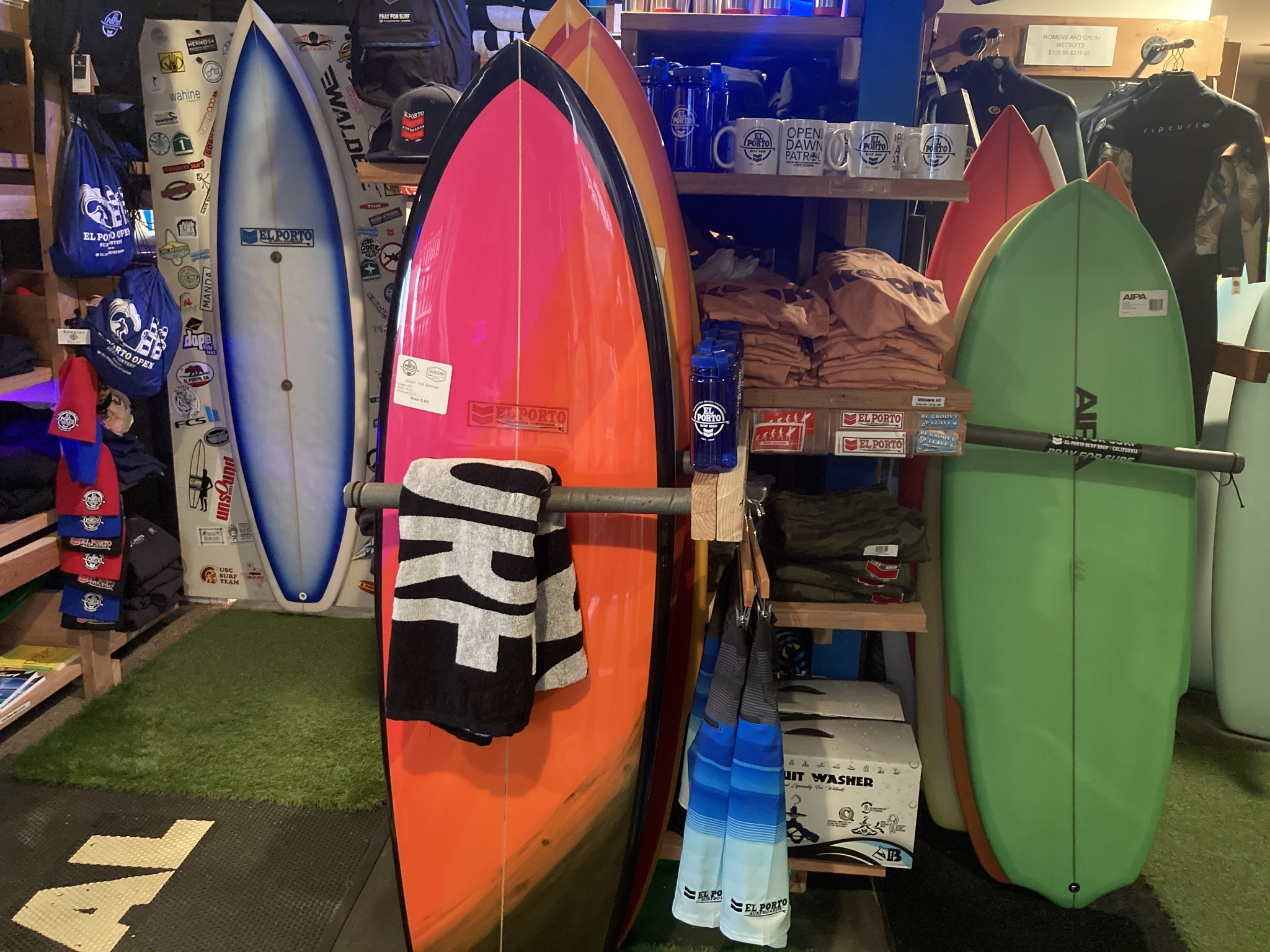 Services Offered:
Friendliest service in Los Angeles County! 
Best Rental Rates in LA GUARANTEED on Surfboards / Wetsuits / Beach Gear 
We sell: Surfboards / Fins / Wetsuits / Wax / Accessories and much more! 
Professional Repair Services / DIY Repair Material Supplier 
Shaper Supplies